Might we gladly present, in conjunction with the almighty Mism Records: fbcfabric & reindeer – It's Not Who You Know, It's Who You Know- THE FINAL CUT; the definitive edition of the critically acclaimed indie rap classic.
Carefully reassembled from the original album sessions, this release is spread across three twelve-inch vinyl records, split into six movements, and contains 89 minutes of music, over twenty-three songs, presented complete for the first time.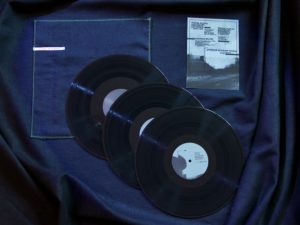 A luxury edition to be sure, and contained in high quality black card sleeves within a hand-sewn outer fabric case, replete with embroidered name tag and high quality A5 doube-sided credits insert, with all the pertinent facts in the case.
Limited to just 100 copies worldwide, the album is immediately destined to be a collector's item, and is exclusively available direct from Mism Records themselves.  The release date is 9th October and the the pre-order is live.
6|6|7