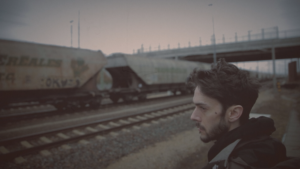 BIO
James Reindeer (b. 1978) is an English writer, producer, rapper, and multidisciplinary artist best known for his acute, anguished rap vocals, post-rock sonic landscapes, and multifarious use of sampled field recordings.
Emerging over a decade ago as a voice of the disaffected indie-rap underground, Reindeer first found critical acclaim alongside longtime friend and musical collaborator fbcfabric for their highly-celebrated conceptual album, 'It's Not Who You Know, It's Whom You Know' (fbcfabric & reindeer).
Since then he has written and recorded twelve albums across a variety of genres from hip-hop to doom-drone to spoken-word, and collaborated with such greats as Son Lux, 2econd class citizen, Egotronic, Frittenbude, and a raft of others, as well as having performed live across North America and Europe, from the Kaos Network, LA, to Glastonury Festival, UK, sharing stages with the likes of Thesis Sahib, Rappin' 4 Tay, Bleubird, Gong, and Ceschi, to name but a few.
Originally hailing from South London, UK, Reindeer has spent many years living and travelling throughout the Western Lands, from Ostrava to Oakland, Leipzig to Brighton, and is currently between residences somewhere in the Surrey Hills.
Reindeer's first official full-length solo debut record, Field Reports from the Western Lands (Anette Records No. 13.), a 16-track limited edition double vinyl in 4 parts, was released on March 30th, 2018, complete with a 44-page illustrated lyric booklet and digital download code.
He has subsequently spent 2018 recording a trilogy of pure hip hop albums, harking back to his earliest production days in the mid 90's. SiNALOA GUNSHiP WARLORDiSM, Black Helicopters over FEMA Camp L.A. And 667 HEARTS of DARKNESS (VI.VI.VII Records) are now available worldwide through all well known digital services.

PRESS
Seriously some of the best lyrics we've heard all year.
–Mary Anne Hobbs
The expression of a more sure and frightening grasp of reality. This is demanding territory to tread.
–tinymixtapes
Skewered hip hop influenced by likes of Godspeed You! Black Emporer, Tortoise, Low & Silver Mt. Zion…
–Delarge
Criminally overlooked. Dark, despondent and poignant in these troubled times. Make no mistake about it, this is one of the best UK hip-hop albums of all time.
–Discogs
Extraordinarily evocative and affecting music.
–Spannered
Truly one of the greatest slept on underground hip hop albums of all time. A masterpiece is no understatement. A record we keep coming back to. Dark and cynical with a very sharp edge to it.
–Steve Lamacq
Fucking awesome. Respect.
–AIM

CONTACT
General: [email protected]
Booking: [email protected]
Press: [email protected]